Reflecting on Year Three…
Three years ago around this time, I started Just a Little Suga'. I had finally emerged from the dark hole of processing my grandmother's diabetes-related death, and felt ready to share my story of grief with anyone who would listen. In fact, one of my initial posts highlighted the trauma and anxiety I experienced as a person living with diabetes witnessing her transition. I spoke lamentingly, wondering—what would it have meant for my grandmother to have a community of black and brown faces carrying her through this disease? What type of impact would seeing relatable and real examples of individuals striving to live well with diabetes have on her? As a black woman who also lives with type 1 diabetes, I felt compelled to create a community that both my grandmother and I would have benefited from, one that prioritized the diabetes narratives of marginalized communities, and one that began with me shamelessly speaking my truth. In the last three years, I've witnessed the tremendous power of vulnerability, and an increased openness to conversations around the value of representation and health equity within the broader diabetes community.
So far, 2019 has been quite a year for Just a Little Suga'. After an abundant 2018, peppered with new chapters and ventures, including "Diabetics on the Margin", a well-received visual story-telling project, and its in-person iteration, a brunch and panel discussion hosted in partnership with Beyond Type 1, along with a series of interviews, and other compelling articles crafted by yours truly, I made the intentional choice to ease into the New Year. This wasn't an easy decision for me, especially as one who's wired to "do, do, do," and is forever eager to tackle the "next thing." But, the universe slowed me down.
After slipping into that familiar state of anxiety, coupled by chest pains and tightness, all resulting from my desire to quickly build off the momentum of DOM, while seeking gainful employment, AND dipping my toes into the wedding planning process, a sister was feeling overwhelmed. To counteract this rising tension, I began my New Year alone in Hudson, New York, creating a detailed roadmap for Just a Little Suga' in 2019.
Interestingly, I veered significantly from the route I envisioned, one marked by the hope of ongoing programming, more DOM features, and the solidification of Just a Little Suga' into a formal entity. Instead, I spent a lot of my limited free time, speaking at and traveling to various diabetes-related events, and planning my June 22nd event, Invisible Identities: A Conversation on Diabetes and Disability.
Here's an overview of what 2019 has looked like for Just a Little Suga':
January 2019:
February 2019:
Panelist at JDRF's Greater Dallas Chapter's Type One Nation Summit. Spoke on the Social Media Panel, Youth Panel, and Adulting With T1D Panel.
March 2019:
Participant in advisory council that provided feedback on innovative diabetes drug.
Attendee at the JDRF Young Adult Conference in Dallas, Texas.
May 2019:
Speaker at Daniele Hargenrader's Diabetes Empowerment Summit.
Featured in the Summer 2019 issue of Diabetes Living, "Stuck on You"
Featured in Grace Bonney's Good Company Magazine entitled, "The Real Cost of Healthcare"
June 2019:
Nominated for WeGo Health's "Best Kept Secret" Award
July 2019:
August 2019:
Presented session entitled, "Diabetes on the Margin" at AADE in Houston, Texas.
Hosted Just a Little Suga' booth in the Peer Support Community Corner sponsored by Roche Diabetes at AADE.
Recognized by "The Mighty" as 10 Diabetes Influencers to Follow on Instagram
Nominated for the Myabetic Diabetes Awards, "Blog of the Year" category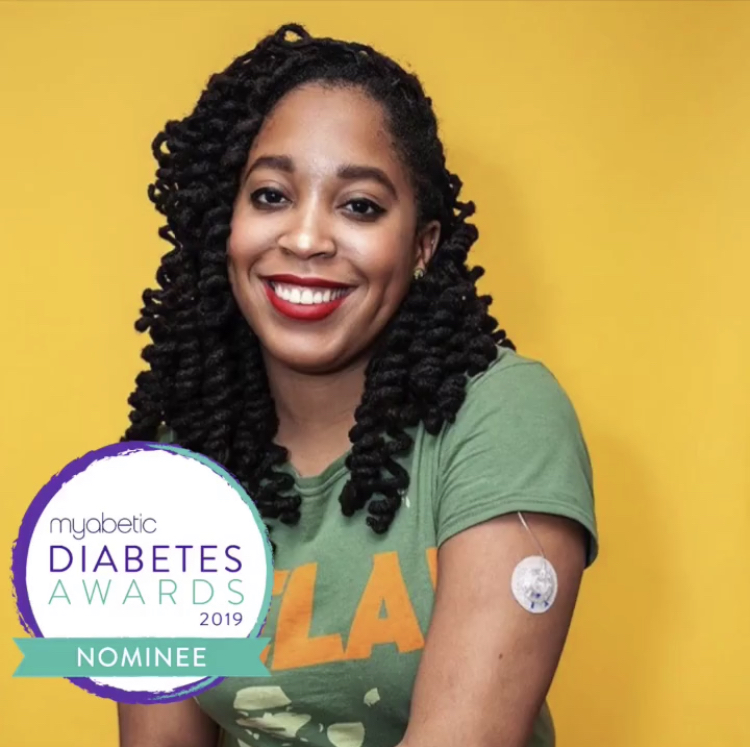 September 2019:
Participated in a visual story-telling project by one of my favorite diabetes companies.
Guest appearance on The Healthy Maven podcast
When I reflect on the first three quarters of the year, there's no denying its fruitfulness. Still, it unfolded in a way that is vastly different from what I expected. As I buckle down during this final quarter, I release my intentions into the atmosphere with the hope that the universe is responsive and kind. This season, filled with its new platforms and stages, enabled me to cultivate new friendships and deeper connections within the diabetes community. My hope is that these evolve into meaningful relationships, that sustain me during the valleys of my personal diabetes journey, and reenergize me in those moments I feel weary. Moreover, I hope this last quarter of the year brings me a tribe of like-minded advocates willing to contribute their talents and skills to the elevation of this cause– spotlighting the voices of those whose stories go untold. Interested in joining the movement? Let me know!
One response to "Reflecting on Year Three…"